Covid Update 22nd October: Little River Open || Oakleigh Opening 30th October*
*Oakleigh is set to reopen once the state reaches 80% double vaccination rate.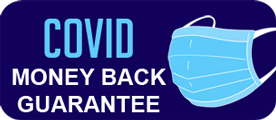 Plan & Book with confidence!
In line with Government Announcements Little River is open for regional customers only until 30th October, when the state reaches 80% double vaccination and metro customers can travel to regional zones again. This is also when Oakleigh will re-open. If your session cannot proceed due to COVID restrictions you will be given the choice to reschedule or refund your deposits.
World Series Paintball - #1 Choice for Adults & Kids Paintball

Paintball Melbourne
Melbourne's Cheapest Paintballs
Awesome Themed Fields
Organiser Bonuses!
2 Great Locations
Paintballs from just $15 per 100 balls!


What our Customers Say...
Average Rating:

4.8

/ 5 from

976

Reviews

To read all reviews please visit the field location page.
Oakleigh Paintball

Splendid I would say. It was treat playing there and we had plenty of fun. excellent service staff and great service. Cheers!
by Parth reviewed on 2017-04-05
Little River Paintball

It was a great experience! I had heaps of fun and ill defiantly be back in the future.
by Nathan reviewed on 2016-08-03
Oakleigh Splatball

It is awesome fun, and had a great time. Took a friend, and would definately recommend Splat ball. This is my go to place. Very well organised, and the staff are friendly
by Ryan reviewed on 2018-10-15
Little River Splatball

Have been regularly playing Splatball with my daughter and other family members and friends for the last two years. Every time has been excellent and the staff are fantastic. We have played at both locations and cannot decide which is our favourite as both are awesome. Always leave with smiles on our faces and on an adrenalin high. Cant wait for my daughter to turn sixteen next September, then we can take it to the next level. Awesome fun. Thanks to all the crew at World Series Splatball, we will definitely be back in the upcoming school holidays.
by Peter reviewed on 2018-09-17
Latest News...

Paintball is Back!
Life is getting back to the good old days of pre 2020 with Paintball and Splatball parties back in action. Read more...

18th Birthday Parties
Celebrate your milestone in a truly memorable way with World Series Paintball Party. Read more...

2 Great Locations
World Series Paintball has 2 great Victorian Locations to choose from. Little River and Oakleigh both run Adults and Kids paintball games. Read more ....

Adult Paintball...Perfect for Birthday Parties
A Paintball Party is the perfect way to celebrate your next Birthday. Perfect for milestone birthdays as well as the all to often forgotten inbetween birthdays. Read more...

Awesome Organiser Bonuses
World Series Paintball are committed to rewarding our organiser. At both our paintballing centers in Melbourne the organise will play for free with at least 300 paintballs when they have 10 players or more.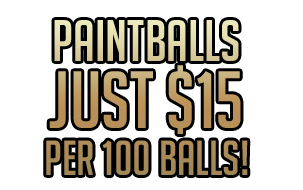 More Ammo = More Fun!
At World Series Paintball we subscribe to the philosophy of Accuracy through Volume! That is why our paintball prices are the cheapest you will find in Melbourne by heaps! All paintball reloads are just $15 per 100 balls during your entire session, so you can load up at the start of your session or top up as required.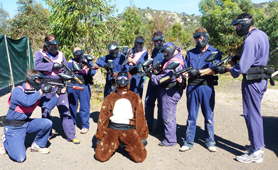 Bucks Parties
Paintball is the perfect way to start your Bucks Party. It gets everyone involved, is awesome fun and provides plenty of stories for the nights festivities. With buck orientated games and the famous 'buck run' available, we are certain to make sure your Buck stands out from the crowd.
World Series Paintball - #1
Paintball Melbourne's premium paintball operator is World Series Paintball. This is due to the combination of offering Australia's cheapest paintballs, quality themed playing fields, professional grade equipment, and brilliant safety record. World Series Paintball also offers the flexibility of running sessions all throughout the day, so you can choose a start time that fits with your schedule.
Plus with the convenience of 2 paintball fields in Melbourne to choose from World Series Paintball is also convenient to travel to. South East of Melbourne is our Oakleigh paintballing center (near Chadstone Shopping Center) and West of Melbourne is our Little River paintballing center (near Werribee and Geelong).
So if you are after something different to do with your mates, or organizing a special occasion such as a Bucks Party, a Birthday Party, A Corporate Team Building or a Work Christmas function then World Series Paintball will ensure your Paintball experience is one your group will rave about for years.
World Series Paintball & Splatball
2 Great Locations: Open 7 Days
Address: 9 Hamilton Street, Oakleigh, VIC 3166 Australia
Address: 165-315 Gifkins Road, Little River, VIC 3211 Australia
Phone: 1300 66 16 50
Email: info@worldseriespaintball.com.au
Prices start from $30 for our VIP customers. For more info click here