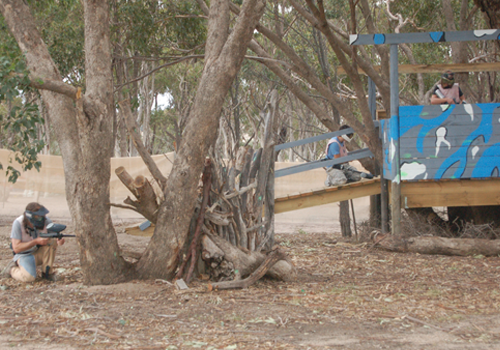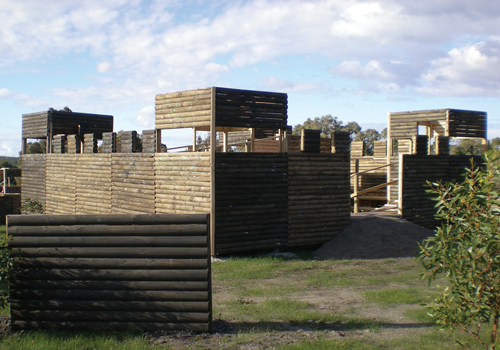 Little River Paintball, Outdoor Paintball
Melbourne's Best and Cheapest Outdoor Paintball Center
Little River is Melbourne's premium outdoor paintball center. It boast 6 massive themed fields, awesome organiser bonuses, plus the cheapest paintball prices you will find at any outdoor center in Victoria. If heading from Melbourne, Little River is located just past Werribee on your way towards Geelong.
Customer Reviews

Average Rating:

4.8

/ 5 from

36

Reviews

Was a great day our two host where a crack up
by Cindy reviewed on 2017-07-18

Had so much fun, definitely doing it again
by Kye reviewed on 2017-02-07

Great fun, chatty ref. no worries at all - really relaxed and fun day
by Jason reviewed on 2017-01-23

Great
by Joe reviewed on 2016-12-07

Awesome day! Would be coming back for sure
by Miri reviewed on 2016-11-28

A fun day for a family group!
by Louise reviewed on 2016-11-01

My family gave me the gift for my 50th birthday. Had a great day with Will as our lead. Managed to shoot all my family during the day even if two were on my side. Great fun, well run. Would recommend to anyone.
by Colin reviewed on 2016-10-31

by Amanda reviewed on 2016-09-23

I had such a great day playing down at Little River. As we were a party full of girls who had never played before, the instructor was incredibly helpful, and the games were great fun. Will be back soon!
by Sarah reviewed on 2016-09-22

It was a great experience! I had heaps of fun and ill defiantly be back in the future.
by Nathan reviewed on 2016-08-03

was awesome
by Austin reviewed on 2016-07-15

It was great, instructions were good as well. overall a lot of fun would do it again tomorrow
by Blake reviewed on 2016-07-10

A+
by Zoki reviewed on 2016-05-23

my mates and i had lots of fun playing paintball at little river, the staff were very helpful and polite and we look forward to coming back soon
by Declan reviewed on 2016-04-13

by Glenn reviewed on 2016-03-19

We really enjoyed it,maybe a few circuits with target shootin would be fun
by Anton reviewed on 2016-01-11

My group and I had a wickedly fun time at little river. Id been once already but everyone were newbies. They all said it was worth the pain for so much fun over the three hours. Highly recommend these guys and this outdoor facility.
by Natalie reviewed on 2015-11-09

by Ying reviewed on 2015-11-06

Such a great day, was well organised and the staff were very accomodating. Everyone that came had a great time and the games organised by the staff made it that much more enjoyable. The different fields we were able to play on were set up really well and the lay out allowed you to see who you were a shooting at (unlike another paintball facility I played at that was in the bush and trees made it harder). Overall it was a great day and couldnt be happier with how it went. Will definitely be back!
by Jozlyn reviewed on 2015-11-04

We all had a great time. Very well organized.
by David reviewed on 2015-10-15

Awesome time
by Dylan reviewed on 2015-10-12

Thank you for having us rowdy bunch we all had a great time especially the hen. She had no idea what was going on and had the best time shooting at us all ;)
by Stefany reviewed on 2015-09-29

I took my fitness fanatic partner and his adult kids here for fathers day and they absolutely loved it. The games were all very well explained and run- the staff were fantastic well be back next month for a birthday well worth the money and a great experience
by Fiona reviewed on 2015-09-15

Excellent venue with excellent staff that made the experience very easy. Have been playing Paintball for quite a while now and to this day i still recommend new players to play at the Little River venue. Will be back soon
by Terence reviewed on 2015-08-25

Was such an awesome day, had a ball
by Josh reviewed on 2015-08-03

Great staff and great day
by Madeline reviewed on 2015-06-29

Excellent field, and friendly staff. Had lots of fun.
by Jerry reviewed on 2015-06-22

From the moment we visited the website with the idea of booking a paintball day, the World Series Paintball (WSP) team could not be faulted. The live chat feature available on the WSP website may have appeared like another pop up at first however made sourcing information, finding a date and the process of booking extremely easy. It also came in handy keeping the WSP crew in the loop with how our booking was coming along and potential numbers we would be playing with as everyone confirmed their attendance for the day. Once we found a suitable date, Travis called me upon my request to take a small deposit for the day to lock us in. It became clear that communication was a priority with WPS as we were called prior to the event to make sure everything was in order for our day. The Website gave very clear instructions to find the venue (Little River) which even our older participants were able to follow without GPS. Our day started with registration, safety briefing and once we were geared up and had guns loaded, it was game on. We had between 2-4 games on each of the 4 playing fields in our 4 hour booking time. With a 20 min intermission in the middle. The referees were able to set up some great games for us which made for some sensations gun play. For our group of 24 People, we provided snacks and drinks in between however items were available for purchase at the venue also as reasonable prices. We had an outstanding day and will be booking another day with WSP again in the future. Thanks again WSP and well done!
by Brendon reviewed on 2015-06-18

All the players had big smiles from enjoyment and fun they had. Talking about going again!!!!
by Deb reviewed on 2015-05-26

Had a group of 11 guys, all had a great time playing through the different areas. Was a painful day, but a fun day. Would recommend heading down to little river to give it a go.
by Kane reviewed on 2015-05-04

Online booking process was easy and came with a friendly followup call to confirm details. Registration on the day was efficient and the necessary safety briefing was clear & prompt. The rest of the time was full of action with a good variety of games that were facilitated by a supportive and friendly host team. All in all a great day! Ill be back!
by John reviewed on 2015-05-04

Really Fun!
by Alex reviewed on 2015-04-13

Thank you for an awesome day! I had organised the day for work and everything was perfect. Staff both on the phone and at the venue were friendly and thorough. Everything ran really smoothly and my co-workers are still raving about it! Thanks so much! We will be back!
by Shaz reviewed on 2015-04-09

The staff were very helpful and the location and game itself were very fun. Not one moment is boring. I would highly recommend this as a party- my boyfriend absolutely loved it.
by Kirstie reviewed on 2015-03-31

Paint balling was great! Everyone in our group had a great time, especially the birthday boy (it was a surprise day out for him). The only thing that I could say might make it better, is to just have a little bit more time on each course. It felt as though you were just getting into it, and suddenly it was over. Otherwise it was a fantastic day and the man that took us around was great. The whole thing was well organised and seemed quite safe.
by Genevieve reviewed on 2015-03-17

Great staff , Awesome venue. Very happy with the day .
by David reviewed on 2015-03-16
Session Times:
4 Hour Session - Open 7 Days - Bookings Essential
SESSION TIMES
Mornings
Afternoon
9:30 - 1:30
12:30 - 4:30
10:15 - 2:15
1:15 - 5:15
11:00 - 3:00
2:00 - 6:00*
11:45 - 3:45
2:45 - 6:45*

*available during summer months (due to sun light)

Awesome Organiser Bonuses!
Organise a group of 10 or more players and the organsier plays free! That's free gear hire + 400 paintballs to unload on your mates.
Bring 20 players and you can choose to nominate a mate to also play free, or you can choose to receive a double paintball bonus for yourself and start with 800 free balls!
How to Book
Secure your booking with a $20 deposit per person which is then deducted from each players paintball pack on the day of play. On the day your group selects either Recruits or Special Forces and then each player selects an ammo pack from that section (to see all packs click here).
CLOSEST PAINTBALL FIELD TO GEELONG AND WERRIBEE!
Situated in Little River, between Werribee and Geelong, World Series Paintball Little River is the premium outdoor paintball field in Melbourne.
World Series Paintball – Little River, is located at the foot of the You Yang mountain range in Little River just off the Princess Freeway. It is just 40min from the West Gate Bridge and around the corner from Werribee and Geelong.

Capture the Glory
World Series Paintball is Go Pro friendly, so you are welcome to film away and capture your Heroics on film for the memory bank. The best way to fit your Go Pro is using a hat clip to fit it to the face mask as this gives the best unobstructed view point. Other popular methods are Chest Mounts or Barrel fittings.
Little River World Series Paintball
Open 7 Days
Address: 165-315 Gifkins Road, Little River, VIC 3211 Australia
Phone: 1300 66 16 50
Email: info@worldseriespaintball.com.au
Prices start from
$39.50
for our VIP customers. For more info
click here